The name "Maynard Ferguson" is burned into the brain of anyone who has ever been interested in jazz. He is among a handful of jazz trumpet players who actually have "done it all". If you're into jazz and you don't know who Maynard Ferguson, aka "The Boss", is, you've been missing one of the greatest trumpet players of all time.
The weekend of May 6-7, 2006 was a special one in Fond du Lac, Wisconsin. Maynard Ferguson and his Big Bop Nouveau Band were scheduled to perform on Sunday. But there was also a Saturday BBQ that had been organized for Maynard and the band and some fans, and I was lucky enough to be one of them. It was terrific to hang out for a while with Maynard and the band, along with Ed Sargent (tour manager) and Mike Freeland (audio engineer). Unfortunately, Patrick Hession (lead trumpet) didn't make it. Serafin Aguilar (trumpet) was kind enough to work with me briefly on some trumpet breathing technique and on the selection of a proper mouthpiece. Thanks again, Serafin! Now, on to the concert:
The concert was the day after the BBQ (thank goodness ;) ). Maybe because of the R&R time, maybe because they were a bunch of happy musicians, or whatever, The Boss and the BBN were absolutely on fire in Fond du Lac on Sunday May 7th. I've heard them 3 times this year, and this performance was nothing short of stunning. Photos are down below.
Maynard was in top form, doing whatever he wanted to do - and it all came out with passion, energy, meaning, and perfection. He continues to define the term "professional musician".
The trumpet section nailed everything, as if it were a tribute to the trumpet legend himself. Drummer Stockton Helbing drove the band and showed everyone what a professional drummer really is. He delivered an awesome drum solo (even Steve Gadd would have been amazed). Brian Mulholland played the bass as if it was an entire band in itself, doing things that most bassists wouldn't have even thought of, much less be able to perform.
I'm less familiar with sax, so it's hard for me to say what level of excellence they reached, but if you like sax, you would have loved their performance. It was great! Trombonist Stephen Smith was focussed like a laser on nailing his parts, and the results were top notch. I hope he gets more solo parts soon.
Even with the unusually long performance, lead trumpet player Patrick Hession never flinched. He continued to perform amazing feats of stratospheric trumpet work all the way to the end of the performance. He has a command of technique, style, range, and endurance that the rest of us can only dream of.
Serafin Aguilar, doing the trumpet dialog with Maynard in 'Frame for the Blues', was jaw-dropping. His solos were equally excellent and intense. He is NOT just another pro trumpet player. (And, yes, he does a mean pirouette, for no extra charge.)
Jeff Lashway showed us just how great (and romantic) it can be to listen to someone play the piano. He even made 'Fur Elise' sound good. ;) (And the blue lights and fog machine made it even more special, Ed. Just kidding.)
Audio engineer Mike Freeland seems to be in love. That is, with his Mackie tt24 digital console, and one less rack of SP stuff to deal with. Once again, even in this challenging acoustical environment (a huge gym, aka the fieldhouse), Mike presented a great sound to both the audience and the band. Audio engineers are often not appreciated, unless you realize that excellent sound and balance are only achieved by an engineer with a high level of skill, knowledge, and experience.
We can understand if Ed Sargent felt a little left out on this date. On other dates, he does an excellent job of augmenting the music with appropriate lighting. But, how can you compete with a gym ceiling full of sodium vapor lighting that's on only three switches? So there was no special lighting this time. (My guess is that, on this night, he enjoyed just listening to the band, instead of working the lights.)
So, there you are. That's my take on Maynard Ferguson, his band, and the performance they delivered on this night. Mr. Ferguson, I really don't know how you do it. I'm just glad that you do!
For performance locations and dates, news, CDs, DVDs, and more about Maynard Ferguson and the Big Bop Nouveau Band, go to www.maynardferguson.com.
If Mr. Ferguson and the band are playing anywhere in your part of the country, you MUST go hear them.
Update 8/24/2006: Mr. Ferguson passed away peacefully last night in California. He was a great musician and a great human being, loved by fans around the world. He will be missed beyond words. Go to maynardferguson.com for more information.
Back to youramerica.net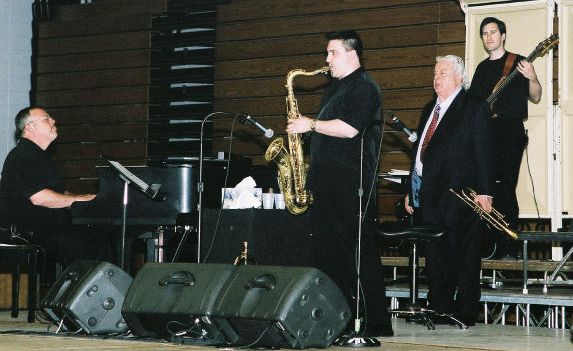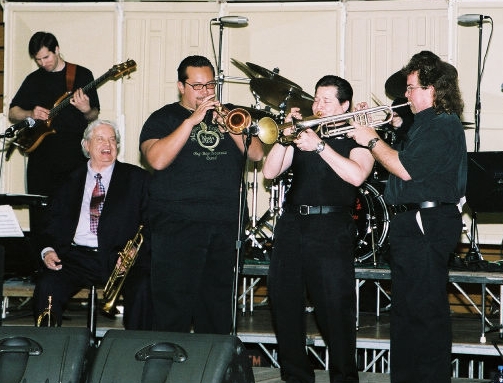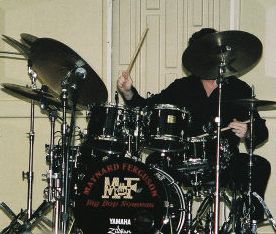 "Cymbal Head" Helbing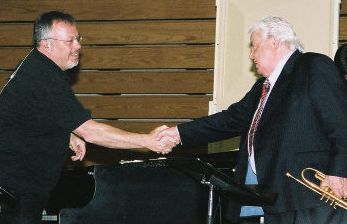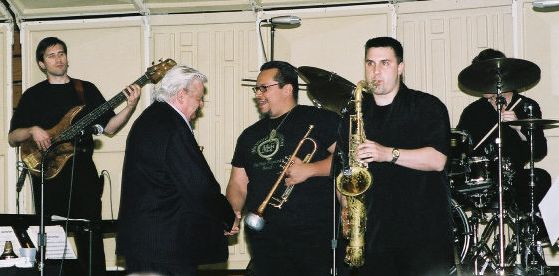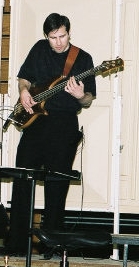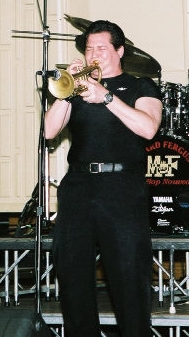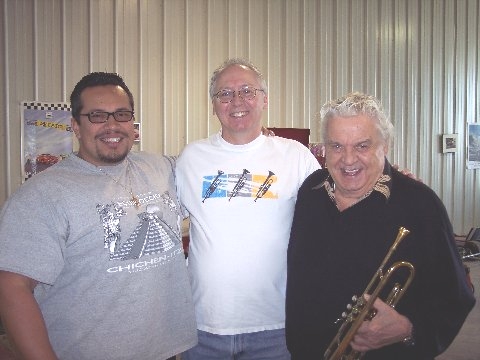 Tres hombres