"The Total Solar Eclipse Of August 11, 1999"
Dave Luepke's Solar Eclipse Page
As seen from the St. Kathrein / Kulm im Burgenland area of Austria, southeast of Oberwart, across the border from Szombathely, Hungary.
Top Left: Totality showing the middle area of the corona. With the naked eye, coronal streamers could be seen out to about 4 or 5 solar diameters!
Top Right: The diamond ring effect at the end of totality. Just before totality ended, a few small thin clouds passed by, creating this amazing sight. (This shot won First Place in the Hole In The Sky Tours photo competition, and I wasn't even on their tour.)
Below: Multiple exposures after totality, taken about every 4 to 5 minutes.
The Story:
I've always wanted to see a total solar eclipse. Since this eclipse would be visible in Europe, which is easy to get to (and a nice place to go!), it seemed like the perfect opportunity to see one. Austria and Germany, both on the eclipse path, are a short scenic drive from Switzerland. Since I like Switzerland a lot, and am always looking for an excuse to go again, we flew into and out of Zurich for this trip.
The two most useful resources for planning the eclipse part of this trip were Fred Espenak's solar eclipse bulletin on the NASA Web site, and Philip Harrington's book "Eclipse!".
Fred Espenak is apparently the oracle of eclipse information. Every other source I've seen either quotes him or has pictures he has taken. How one guy can be so pervasive in a worldwide community is amazing. But as they say, when you're good, you're good. I've been logging onto Fred Espenak's bulletins for several years. They are an in-depth resource for details about a particular upcoming eclipse. If you're planning to go see one, you NEED to print out the bulletin and study it.
I found Philip Harrington's site on the Web by accident (aka a Web search), and immediately went out to buy the book. Honest, I'm not getting paid to say this: His book is required reading for anyone interested in eclipses. For seventeen bucks, you get a wealth of eclipse information that you will refer back to for years to come, including how eclipses are predicted, trip planning, photography, videography, viewing and projection techniques, terminology, explanations of various eclipse phenomena, eclipse dates and paths, and much more. If you're interested in eclipses, you HAVE to buy this book.
Preparing for this trip, we knew the greatest challenge to seeing the eclipse was to avoid bad weather. I've been to Bucherest, Rumania, and wanted to go there for the eclipse since the weather prospects were pretty good, but the cost was just too high. So we planned to see it in Germany or Austria, although frequent showers, overcast skies and high humidity (haze) were concerns in these countries during the summer. The best thing to do was to build some flexibility into our plans, so we could go where the sky was forecast to be clear. This proved to be a major task, since we had to consider driving time and make hotel reservations for a variety of scenarios.
We flew into Zurich more than a week before the eclipse, so we could spend some time just vacationing before the big show. Although we had a good time, the period of August 8th through the 11th was always on our minds, since these were our driving days to get under clear skies on the 11th. What was the weather forecast for Karlsruhe and Stuttgart in Germany, and Salzburg, Kapfenberg, and Oberwart in Austria? Where would we end up on the 11th? Where would we be driving to each day until we could say "we're there"?
Getting good, in-depth weather information turned out to be a challenge, since we didn't know what TV channels to watch or when; and since we didn't speak ANY German, the newspaper wasn't very helpful. Unfortunately, many local people with whom we spoke were not as interested in the eclipse as we were, so their responses to our inquiries about weather forecasts were uniformly general and short: "I think it does not look good" was about all we could get.
We had planned to go to Innsbruck on the 8th, and then see what to do, since from there we could reach any of our potential destinations east or west (Karlsruhe to Oberwart) in a day or so. In the absence of any definitive "good weather" predictions, that is what we did.
Fortunately, the owners of the LandGasthof Bogner hotel in Absam (a few kilometers east of Innsbruck) were very nice people, and they let me use their computer to look at weather information on the Internet. From the satellite photos and forecasts (on the 9th), we decided we should forget Germany and head for Salzburg, a town where we had a hotel reservation, and which is a great place to go, especially if you're a classical music fan like me (but driving and parking in the center of town is a nightmare). In Salzburg, we would decide if we needed to go farther east.
In Salzburg on the afternoon of the 9th, we made the tough decision to continue to Graz, in southeast Austria, and then see what to do from there. It was a tough decision for 3 reasons: we had done a lot of driving already and we were all getting tired of it, Salzburg would be a great city to see an eclipse from, and the drive back to Zurich would have been fairly leisurely. But the goal was to see the eclipse, and the weather forecast said "go", so we went on to Graz.
On the way to Graz, a traffic delay helped us make the decision to spend the night of the 9th in Mandling, a little town east of Radstadt. This was good, since it was already about 7 pm, and tempers were getting, as they say, a little frayed. Here, the owners of the hotel "Gasthof Taferne" were very nice, and allowed me to use their computer to look at satellite images and forecasts. Things did not look promising, and it started to look like we would end up in Hungary!
On the morning of the 10th, we drove to Graz. Wow, what a city! Graz is a city with a rich history, many things to see and do, and friendly people. It was only going to get 1 minute of totality during the eclipse, so our plan was to go northward from it toward the center line on the morning of the 11th, where we would get the maximum totality of about 2 minutes and 15 seconds. The young man at the tourist office by the train station was very helpful (and the good-looking girls at the downtown office were quite helpful as well). On the afternoon of the 10th, he informed me that because of expected clouds, the latest probability for seeing the eclipse was 50 percent in Graz, increasing to about 60 percent east of the city, in the lowlands.
The consensus opinion among several sources was to get away from the mountains by continuing east. Great, we're going in the right direction for the eclipse, but getting farther from Zurich and our return flight on the 14th! We knew how much time we needed to get back to Zurich by the 13th for our morning flight on the 14th, and we were getting close to the limit. We knew we could drive all the way to the Hungarian border, but it would be a long drive back to Zurich (all the way across Austria, and part of Switzerland)! It was like trying to get as far away from an airport as possible, and then see if we can make it back on time, on unfamiliar roads. The tension was mounting.
On the morning of August 11th, we looked outside and were not very happy. There were clouds everywhere, but of a type which seemed like they could dissipate as the morning progressed (if you say it often enough, it might come true).
There was some basic weather information on TV, but it was nothing like here in the States, where every weather broadcast includes detailed satellite images and time-lapse videos. With the difficulty of finding an actual satellite image or detailed forecast (the hotel didn't have a computer, and going to the tourist office would have been too time-consuming), the best thing to do was just get away from the buildings and trees in the city and look at the wide open sky with our own eyes.
Figuring that the highway going northeast from Graz (going toward Vienna) would be jammed with traffic, we left the hotel fairly early in the morning. Eclipse time in Graz was going to be about 12:45pm local time, and a minute or two later near the border, so we had time to do the driving.
Once away from the city and on the open road, we got a good picture of the weather situation. We needed to continue heading northeast toward Oberwart, which appeared clear, to get away from the mountains, humidity, and clouds, and toward a road which could take us farther east if necessary.
Although the main north-south highway (A2) going toward Vienna moved along quite well, the secondary highway after our exit to go into Oberwart in fact WAS jammed. It took 15 minutes to go about 2 kilometers. Police were directing traffic at a main intersection outside of town. Since most people were turning left (toward town), we turned right, opening up the option of several fairly empty back roads to bypass town and get us where we wanted to be (on the eclipse center line under clear skies, of course), before the big show started. We did NOT want to be stuck in traffic under clouds at this particular time in our lives.
As it turned out, we only went about 1 km when we saw a great place to set up - a one story building with a large parking area in front. The sky was clear, with clouds fairly far off to the west. This was about an hour before first contact. We were only about 10 km off the center line, so we knew we'd get more than 2 minutes of totality.
As we were setting up, a huge cloud literally blossomed out of the mountains which were to the west and started to spread in our direction. With more than an hour before totality, I knew the clouds would get to us before the eclipse did. I told Jane: "We'll go all the way to the border if we have to - so we can at least SEE the eclipse, even if we don't have time to set up cameras." We packed up and hit the road again. The gamble was to get far enough ahead of the clouds that they would either stop growing before they reached us, or that we'd see the eclipse before they reached us. We travelled southeast for a while, then followed another road back northeast to get closer to the center line again, getting us about an extra 15 kilometers (about 10 miles) away from the clouds, and stopped to set up once more.
We were now about 5 km from the Hungarian border. The big cloud began to collapse, reducing our concerns, but the broken thin clouds (alto-cumulus?) on the leading edge continued to drift slowly toward us. Within 15 minutes, we were again concerned that they would still reach us before totality. We needed to maximize our odds by driving as far as we could. Once again, we packed up and drove, but this time we couldn't go far, since we were running out of time as well as geography - totality was going to happen in about 20 minutes, and we couldn't take our rental car into Hungary. This is called "living on the edge".
We ended up at the edge of the town of Kulm im Burgenland, which wasn't on the map, but judging from our driving and the occasional border patrol vehicle on the road, we assumed we were within a kilometer or so of the Hungarian border. Winten, Austria was nearby to the south. We only gained about 4 or 5 kilometers, but as it turned out, that was just enough!
Now it was less than 15 minutes before totality, and the clouds were still far enough away that we felt we were "safe". Finally, the planning, the guessing, and the running was over, and for the first time, we knew that we were going to see the eclipse! We got both cameras set up with just a couple of minutes to go! Since our last stop, Jane had been sharing her car seat with one of the cameras, on the tripod, with the legs extended, so that helped in this "crunch time"! Now I know the meaning of the term "eclipse chasing"!
In the final few minutes before totality, you could actually watch the landscape get darker and darker. At least a minute before totality, it was dark enough that we could see Venus shining brightly below and left of the Sun.
At totality, the Sun's coronal streamers stretched out at least 4 or 5 solar diameters in all directions. Several large prominences were visible during the entire period of totality, like bright stars dotting the outline of the moon. The sky was a deep blue, not black like in most photographs, but the moon's disk was as black as night. The landscape was clearly visible, but darkened something like a late evening twilight.
It was amazing how vividly colored the scene was - the deep blue sky, the black moon, the long pearly white coronal streamers, the bright red-pink solar prominences, a few stars, and the planet Venus, much more vivid than I expected. It was truly an awesome sight.
There were about 20 or 30 people in the area around us, including some lucky folks who only had to walk out to their front yard to watch the eclipse from their lawn chairs! (If only they knew how hard some of us had worked to be there!). Although we heard people speaking several different languages, I think the interpretations would all be "Wow!".
We were only about 12 kilometers off the center line, so we had nearly the maximum length of totality. Shortly before the end of totality, a few small, thin, broken clouds began to move over the sun, actually adding to the drama of the last few seconds of totality and of the diamond ring effect. The whole thing was absolutely amazing! It was worth every frantic kilometer of driving!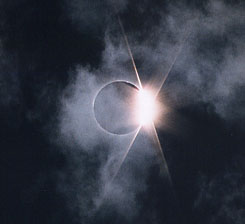 When it was all over, everyone talked about how great it was, and just relaxed. The pressure was off. We had all beaten the weather and seen the eclipse! There were big smiles all around. People took pictures for other people, including us. A guy from Yugoslavia who spoke just a few words of English asked me to take their picture, and then he took ours.
Suddenly, the drive back to Zurich wasn't such a concern - we were euphoric and full of energy! Driving along, talking nearly nonstop on an adrenaline rush, Carly Simon's old song "You're So Vain" came to mind. (Come on, sing it with me: "We drove our Vectra all the way to Kulm, to see the total eclipse of the Sun!)
This was my first total eclipse, but it definitely won't be my last. The experience is unlike anything else you can do. Once or twice every few years, for a few brief minutes, somewhere in the world, there's a show in the sky on a cosmic scale. It's an event that has been scheduled for millions of years. It's going to happen at a particular place and time, and if you're lucky enough or determined enough to be there, you'll see something you'll never forget. Standing in the shadow of the moon is a fantastic experience!
For solar eclipse travel arrangements, if you'd rather not "go it alone", search for Hole In The Sky Tours, or just "solar eclipse tours". For details and the path of totality, see the NASA site for this eclipse.
Folks who are really into eclipse reading, chasing, photos, etc. and want to learn about the experiences of other eclipsophiles, should also be sure to see Wendy Carlos' site. She has some truly great stuff there.
And remember, you definitely want to get Phil Harrington's book "Eclipse! The What, Where, When, Why, and How Guide to Watching Solar and Lunar Eclipses" (that is the longest book title I have ever seen), which gives eclipse information through 2017. You'll find yourself planning vacations for the next 16 years!
For detailed scientific information, maps, and historical meteorological information for a particular eclipse path, look for Fred Espenak's NASA eclipse bulletins. He also has the NASA Sunearth Web site devoted to eclipse watching that is very useful for anyone interested in knowing more about eclipses.
Update: I had my airline ticket to Zambia for the 2001 eclipse, and I had my lodging set up. I had my rental car reserved. I cancelled the whole thing. Why? Because it would have taken two and a half days to get there, and two and a half days to get back; at a "reasonable" cost via Europe. I realized that I was spending thousands of dollars for an eight day trip that was really only going to be three days of fun - and five days of "ugh".
Update, March-2006: This 2006 update should put you on notice that some destinations require some significant planning. For example, Turkey. I won't be going to Turkey for the 2006 eclipse. Cost and planning are just too much. And, the destination is filled with people who hate Americans (read "they want to kill you"). So, I'm focussing on China for 2009, which will be an especially long solar eclipse, and will be worth the wait, the planning, and the cost. And, the Chinese government doesn't tolerate, let's say, "unrest".